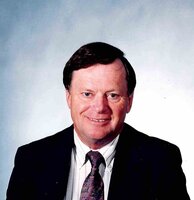 Rowland "Ron" Brown
Rowland "Ron" Brown passed peacefully at home on October 5, 2021 in the company of his son, daughter, son in law, and amazing caregiver Anita. He was 90 years old.
Ron was predeceased by Sherry Brown, his loving wife of 54 years, his sister Connie, father Walter, and mother Lefa. He is survived by daughter Kimberly, son Christian, granddaughters Lefa and Amelia, grandson Henry, son-in-law Hal Cowles, and grand dogs Sky and Campbell.
Ron was born in Burlington, VT on July 29, 1931. He grew up in Morrisville, VT, and graduated from People's Academy in Morrisville. After high school, Ron went on to Tuft's University. While still at Tuft's in 1950, he was called upon to serve his country in the Korean Conflict. He became a Staff Sergeant in the USAF, remaining until 1954. After the conflict, he continued his studies at The University of Vermont, where he received his Bachelor's degree in Industrial Management.
Ron began his career in 1964, as an insurance agent with Colonial Insurance in Glens Falls, NY. He was later hired by State Farm Insurance, as the Claims Superintendent in Albany, NY. He was eventually transferred to an office in Binghamton, NY. It was there that he met his wife and lifelong partner Sherry Bozosi in 1966. In 1972, Ron transferred to the New York Capitol District region. He continued to work for State Farm for another 27 years, until retirement in 1999. During this time, Ron lovingly raised his daughter Kimberly and son Christian and supported his wife as she went to college for her degree in social work. Ron was a member of the American Legion, and the Clifton Park Elks Lodge 2455. He also served as Chairman of the Albany Area Special Arbitration Committee. Still having lots of energy after retiring from State Farm, Ron continued working into his 80s, shuttling cars around New York and New England for Enterprise Rental Car.
Rowland was an avid golfer, and baseball fan. He enjoyed a cigar and Manhattan daily. Ron also very much enjoyed spending winter months at his cherished seaside condominium on Amelia Island, Florida, with wife Sherry.
The family would like to express their sincerest appreciation to the very special ladies who cared for Ron, round the clock, for nearly a full year: Anita, Jessie, Alicia, Marisa, Stacey, and Salena.
Calling hours will be held on Wednesday, October 13th from 10:30 a.m. to 12:30 p.m. at the Catricala Funeral Home, 1597 Route 9, Clifton Park. A funeral service will follow at 1 p.m., at Shenendehowa United Methodist Church on Route 146 in Clifton Park.