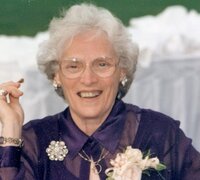 Mary "Mae" Dehmer
Mary "Mae" Dehmer, 100 years young passed away peacefully on Wednesday, October 13, 2021 surrounded by her adoring, fun family. Born on January 14, 1921 in Glasgow, Scotland, she was the beloved daughter of the late William and Mary (Blue) Hendry. She was predeceased by her husband Ray, sister-in-law Ruth (Jack) Young, and her brothers Jim (Peggy), Duncan (Ruth) and Bill (Gladys) Hendry.
In 1923, at the age of two, she immigrated to the United States, where the family settled in Newark, NJ. Mae was then joined by three brothers, Jim, Duncan, and Bill. On August 23, 1947, Mae married the love of her life, Raymond L. Dehmer. They first dated before he left for WWII and upon his return from the European theater, resumed dating, and married a few years later. During their marriage they lived in Pines Lake, NJ, Topsfield, MA, and Clifton Park. Mae was a gifted vocalist, and enthusiastic choir member, singing in Methodist, Congregational, and Episcopal churches where she lived. She had been a very active member of the Shenendehowa United Methodist Church in Clifton Park for 49 years. She worked for JC Penney as a Custom Drapery Specialist, retiring in 2007. During her retirement she lovingly wrote poems for her many family and friends. She also loved her family vacations in Bethany Beach, DE.
Mae is survived by her children Mary (Thomas) Brace of Canandaigua, NY, Robert (Jane) Dehmer of Crystal Lake, IL, William (Laura) Dehmer of Ballston Lake, and Paul Dehmer of Cleveland, OH. She leaves 11 grandchildren, Allison (Ben) French, Rob (Mariella) Dehmer, Katie (Tom) Niles, Anne Dehmer, Elizabeth (Johnny) Walsh, Heather (Mike) Brandt, Bethany (Rick) Burroughs, Scott (Emily) Dehmer, Tyler (Sierra) Dehmer, and step-grandsons John and Drew Cassidy, 12 great-grandchildren; Amelia & Katie French, Samuel Dehmer, James & Elise Niles, Johnny & Christian Walsh, Ayla & Hadley Brandt, Eliana & Liam Burroughs, and Penelope Dehmer, as well as many nephews and a niece.
The family would like to extend their deep appreciation for the extraordinary care, support, and kindness received from the staff and management of the Wesley Community Rehabilitation Center.
Calling hours will be held on Tuesday, October 19th from 4 to 7 p.m. at the Catricala Funeral Home, 1597 Route 9, Clifton Park, with a funeral service on Wednesday at 9 a.m., at Shenendehowa United Methodist Church on Route 146 in Clifton Park. Burial will be in the Saratoga National Cemetery.
In lieu of flowers, donations may be made to the Wesley Community Foundation, www.thewesleycommunity.org, or to the Shenendehowa United Methodist Church, www.shenumc.org.