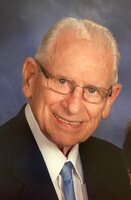 James L. Stafford, Jr.
James "Jim" L. Stafford Jr., age 95, passed away peacefully at his home on October 14, 2021. Born on February 20, 1926, he was the son of the late James and Ruth Stafford. He was raised in Briarcliff Manor, NY and spent the last 50 years of his life in the Clifton Park area.
Jim graduated from Briarcliff High School at the age of 17 to join the Navy in 1943. After active duty he earned an engineering degree at the University of Rochester. Upon graduation he was hired by General Electric and remained there for his entire professional career until retirement from the Steam and Gas Turbine Division.
Jim was predeceased by his wife Dorothy "Dottie" Stafford, and his sister Marcy Stafford. He is survived by his brother Albert E. Stafford, son Scott Stafford, daughters Sharon Stafford (Jeff Salocks) and Nancy Stafford Brandt (Ed Brandt), and his grandchildren Megan Salocks (Jimmy Venning), Dylan Stafford (Moira Wentworth), Emily Brandt, Ryan Salocks, Devon Camillieri, and Conor Brandt.
A memorial service will be held on Friday, October 29th, at 11 a.m. at St. George's Episcopal Church, 912 Route 146, Clifton Park, NY 12065. (If fully vaccinated - masks optional. If unvaccinated - masks required.)
In lieu of flowers, donations may be made in Jim's memory to St. George's Episcopal Church by going to www.stgeorgescp.org