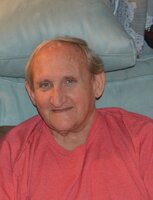 Peter S. Hobart
Peter S. Hobart, age 77 of Brunswick passed away peacefully on Monday, October 25, 2021 after a long courageous battle with liver disease. Born on February 25, 1944, he was the son of the late Samuel and Elizabeth Hobart. He was raised by his late grandparents, Frederic and Marion McDowell.
He is now reunited with his late son Christopher Hobart, where they can share their love for the Giants and Dale Earnhardt together again. He was predeceased by his brother-in-law Hank D'Arcy.
Peter served as a paratrooper in the US Army during the Vietnam War and earned the National Defense service medal, Vietnam Service Medal, Vietnam Campaign Medal, Bronze Star, Combat Infantry Badge, Army Commendation Medal, Parachute Badge, and 2 overseas bars. He spent his career as an office manager for Troy Belting for over 40 years. He was avid sports fan and enjoyed watching the NY Giants, the Yankees, and Dale Earnhardt. He volunteered his time coaching youth softball and Pop Warner football. Most of all, he loved attending his grandchildren's sporting events.
He is survived by his wife Betsy D'Arcy Hobart, children Cheri (David) Lee, Rory (Stacey) Wilson, Jared (Diane) Wilson, and Maria (Dan) Garland, his brother David (Becky) Hobart, his sister Anne Grittman, and his brothers-in-law Jim (Gail) D'Arcy and Wayne (Kathi) D'Arcy. He is also survived by his grandchildren Taylor, Ryan, Emma, Jake, Jason, Alex, Taylor, Victoria, Matthew, Nicholas, Megan, Sophie, Sabrina, Charlotte, Trinity, Olivia, and Sophia, his great-grandchildren Carson, Carter, Nicholas, and Hudson, and many nieces and nephews, especially his niece Deanna D'Arcy, with whom he shared a special bond.
Calling hours will be held on Monday, November 1st from 11 a.m. to 1 p.m. at the Catricala Funeral Home Inc., 1597 Route 9 in Clifton Park. Burial will follow at the Saratoga National Cemetery at 2 p.m.
In lieu of flowers, donations may be made in his memory to the Gary Sinise Foundation for veterans by going to www.garysinisefoundation.org/donate.