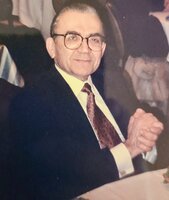 Ronald P. DeAngelus
Ronald P. DeAngelus, 86, passed away on Wednesday, October 27, 2021. He was born on May 31, 1935, in Schenectady, the son of the late Dominick and Edith (Matarazzo) DeAngelus. Ronald was predeceased by his son, Gerald Blanchard
He was exclusively engaged in the practice of criminal defense matters, on both a State and Federal level, for over forty years. He graduated from Union College in 1957 with a bachelor's degree in Political Science. He next received his Juris Doctor Degree, Cum Laude, from Albany Law School in 1960 where he was a member of the Justinian Honor Society and the Editor of the Albany Law Review. Upon graduation he served as the Confidential Law Clerk for the Chief Judge of the 9th Circuit, Federal District Court in Portland, Oregon. Ronald defended clients in a multitude of serious crimes including nationally covered murder and terrorism cases. His practice was limited to criminal defense. He was a member of the New York State Bar Association, Schenectady County Bar Association, National Association of Criminal Defense Attorneys, New York State Defenders Association, Idaka Forum, Kentucky Colonel - 1974.
He is survived by his wife Arlene DeAngelus, daughter Kathi Rickard, brother Donald (Marlene) DeAngelus, nieces Maria Buicko and Sheryl Clark, nephew Donald DeAngelus II, granddaughters Haley Aidala, Jennifer Harvey, and Melissa Rusnica, one great-granddaughter and great-grandson, grandnieces, grandnephews, and many other loved ones.
Funeral services will be private.
The family asks that in lieu of flowers a donation to the charity of your choice be made in Ronald's memory.