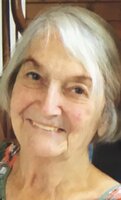 Marilyn P. Haggerty
Marilyn Dollar Haggerty was so much more than a wife, mother, grandmother, sister, sister-in-law, aunt, cousin, colleague, neighbor or friend. Depending on how you knew her, Marilyn was Mar, Mom, Grandma, Aunt Marilyn, Aunt Mimi, Landis, Ma Haggs, Fruitist, Saint Marilyn or Auntie Angel. Everyone who knew her well, or even briefly, loved her. She had a beautiful spirit and soul.
Born on February 18, 1939 at the Mary McClellan Hospital in Cambridge, NY, she was the daughter of the late Paul and Alice (Schultz) Dollar. She passed away peacefully at her home in Clifton Park on Thursday, October 28, 2021 after returning home from St. Peter's Hospital in Albany due to several health ailments. All she wanted was to come home, and she got her wish. She died at 82 years old.
Marilyn was a 1956 graduate of the Vincentian Institute (VI) in Albany, where she gained lifelong friends who she stayed in contact with until her death. She was also a graduate of the Junior College of Albany. Over the years, she shared stories of her childhood, growing up on Orange Street then Norwood Avenue in Albany. She loved taking trips to Lake George, where she met her future husband, Donald, and spent many summers at Burden Lake with her friends and her family.
Marilyn and Donald settled in Clifton Park, where they raised their family, celebrated holidays, and chatted with kind and caring neighbors. She was a long-term parishioner at St. Mary's Church, Crescent, and a supporter of her parish and diocese.
Marilyn was a social butterfly, and boy did she love to talk! She befriended anyone she encountered and had deep and loving relationships with so many. She enjoyed knitting, watching Jeopardy, having long chats on the phone, traveling with her family, and showing off her dance moves at family weddings. She also enjoyed family trips to Myrtle Beach and Hilton Head and her trips with Donald to St. Petersburg, Fla. Most of all, she loved her family and spending time with her husband, children and grandchildren, including annual trips to Plymouth, Mass. She deeply loved her siblings and the out-laws and talked with them on a daily basis. She was so loved by her nieces and nephews, and their spouses and families, never forgetting to send them cards or acknowledge special times. She celebrated her "second birthday" on August 23, 2013, when she was revived from cardiac arrest while vacationing with her family in Plymouth. Since then, she endured two heart surgeries, numerous physical therapy sessions, and many other health ailments.
In addition to raising her family and being there for her husband and children, Marilyn worked as a medical secretary at the VA Hospital in Albany, as a secretary for the St. Catherine's Center for Children in Albany, as the building manager of the Bishop Hubbard Senior Apartments in Halfmoon, and as a neighborhood babysitter and medical transcriptionist. She particularly cherished the time she spent working at the law offices of her dear nephew, William Andrews. Up until her death, she worked as a manager for the Artique Co-Op Shop in Clifton Park and was one of the original vendors. She loved spending time there, socializing with friends, greeting customers, and decorating her booth with her hand-knit sweaters and hats.
She is survived by her husband of 53 years, Donald Haggerty, daughters Kathleen (Eric) Gundrum of West Sand Lake, and Tricia Haggerty of Clifton Park, son Kevin (Qiong Wang) Haggerty of Duanesburg, and her grandchildren Sean Patrick Haggerty, Jeremy Gundrum, Matthew Gundrum, and Acadia Yue Haggerty. Additionally, she is survived by sister Barbara (Richard) Andrews, brother Robert (Gail) Dollar, sisters-in-law Linda Dollar and Tuddy Haggerty, and many cousins, nieces and nephews. She is also survived by her Artique community, her VI friends, and so many close friends too numerous to name. She was predeceased by her brother Paul Dollar.

Marilyn loved life and lit every room up that she walked into. Although she is physically gone, her bright blue eyes, generous spirit and abundant kindness, and the memories she left behind will always be fondly remembered and cherished.

Calling hours will be held on Wednesday November 3 from 9 a.m. to 12 p.m., with a funeral service at 12 p.m. at the Catricala Funeral Home, 1597 Route 9 in Clifton Park. Burial will follow at the Saratoga National Cemetery at 2 p.m.

The family kindly requests that in lieu of flowers, donations in Marilyn's name be made to the American Heart Association, Four Gateway Center, 444 Liberty Ave., Suite 1300, Pittsburgh, PA 15222. Donations sent to this address will directly support the Albany, NY region.