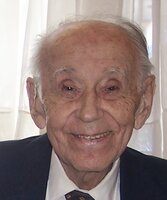 Erwin Fried
Erwin Fried, 99, of Rexford, NY, passed away on October 29th surrounded by loved ones. Born in Vienna, Austria, Erwin and his brother, Curt, emigrated to the United States in 1939 to escape Nazi persecution. In 1943, he was drafted into the U.S. Army and became part of the Army Specialized Training Program at Georgetown and Catholic universities. He joined a steel treadway bridge company and was sent to the European Theater, where he served until the German surrender. He returned to Germany for occupation duty until April 1946. On leave, Erwin visited his childhood sweetheart, Hedwig (Hedy) Reisz, in England, and they rekindled their romance. He brought her back to the states, and they married on July 4, 1947.
In 1952, Erwin graduated from Columbia University with a BS in Mechanical Engineering, accepting a position in the General Engineering Laboratory in Schenectady, NY. In the following decade, Erwin took classes at Union College at night, graduating with an MS in Mechanical Engineering, and the couple's two daughters were born.
Erwin took a job at the GE Space Division in King of Prussia, PA in 1961, working on weather satellites, the manned space program, and Mars landers. He was active in the American Society of Mechanical Engineers, serving as an officer and as chairman of the Heat Transfer Division. He was also on the Thermophysics Committee of the American Institute of Aeronautics and Astronautics, presenting and publishing technical papers in both groups. He was later elected Vice President for Public Information in ASME International.
In 1971, Erwin took a position at GE's Machinery Apparatus Operation in Schenectady as a consultant in the field of Heat Transfer and Fluid Mechanics, working primarily on nuclear submarines. After he retired in 1986, Erwin and Hedy split time between NY and their condo in FL, where he was active on the condo boards, played golf daily, and the couple took frequent cruises. In NY, they moved to Coburg Village Retirement Community, where he was active in the newsletter and writers' group and helped residents with their computers.
Erwin was predeceased by his younger brother, Curt Fried. He is survived by his loving wife of 74 years, Hedy, devoted daughters Linda Russell (Jeffrey) and Susan Morin (Stephen), grandchildren Christine Graham, Craig Morin (Brooke), Matthew Morin (Kelli), Benjamin Russell (Rebecca), and Valerie Russell, and great-grandchildren William Graham, Lauren Graham, Zachary Morin, Adalyn Morin, Jordan Morin, Elliot Russell, and Evan Morin. His grandchildren and great-grandchildren were the joy of his life. Erwin was a man of high intelligence, staunch integrity, and a curious mind that kept him learning until the end. He was appreciative of all he had, and deeply loved his family and friends. He is profoundly missed.
A memorial service will be held at a future date at the Saratoga National Cemetery.