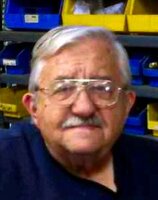 George J. Scagnelli
George Joseph Scagnelli, 83 of Clifton Park, passed away on December 17th, 2021 after a brief illness. He was born July 17th, 1938 in Jamaica, NY to the late Joseph and Eleanor Scagnelli.
George was a loving and loyal husband and father who would do his utmost to help his family and friends whenever needed. His love, dedication, warmth, and sense of humor will be sorely missed by those who loved him. George was very proud of his service in the U.S. Army Corp. of Engineers, where he attained the rank of Sergeant and was honorably discharged. Always an engineer, George was happiest when he was tinkering with cars, machines, and sketching ideas for new products. He worked side-by-side with his son, David, at ST Silicones, Inc. and Manastrip Corporation.
George is survived by his wife of 54 years, Karen Scagnelli. He is also survived by his children, David Scagnelli of Rexford, NY and Dr. Jennifer Borden of Greenfield Center, NY; and his grandchildren Preston Scagnelli, Trevor Borden, Hunter Scagnelli, and Sierra Borden.
Calling hours will be held on Wednesday December 22nd from 5 to 7 p.m. at the Catricala Funeral Home, 1597 Route 9 in Clifton Park, with a funeral service at the funeral home on Thursday at 10 a.m. Burial will follow in the Saratoga National Cemetery.
In lieu of flowers, memorial donations may be made to the Shriner's Hospital for Children.