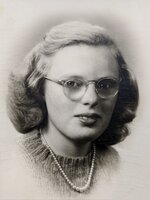 Irene D. Ferraro
Irene D. Ferraro, age 92, passed away peacefully with her husband of 71 years by her side on Wednesday, December 22, 2021. Born and raised in Troy, she was the daughter of the late Francis and Irene Hicks. She was predeceased by her infant son Ronald, daughter Sharon, and brother Walter.
Irene was a devoted wife and mother; she enjoyed sewing and was a voracious reader.
She is survived by her husband Nicholas Ferraro Jr., children Roger (Linda) Ferraro, Maureen (Steven Davis) Ferraro, Therese (Paul) Walker, David (Kathie) Ferraro, and Steven (Maria) Ferraro, 8 grandchildren, and 4 great-grandchildren.
The family would like to extend a heart-felt thank you to Irene's many caregivers at the Daughters of Sarah Nursing Home whose compassionate care made her final days peaceful.
Calling hours will be held on Wednesday, January 5th from 11 a.m. to 1 p.m. with a service at 1 p.m. at the Catricala Funeral Home Inc., 1597 Route 9, Clifton Park. Burial will follow in Most Holy Redeemer Cemetery.
Donations may be made in her memory to the Sharon Ferraro Memorial Scholarship; College Foundation at Delhi, 171 Bush Hall, 454 Delhi Drive, Delhi, NY 13753, or by going to www.delhi.edu/givenow.