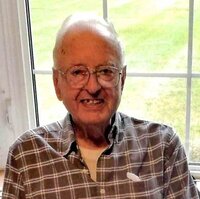 Charles W. Czirr, Sr.
Charles W. Czirr, Sr., age 92 of Voorheesville passed away peacefully on Wednesday, January 5, 2022. Born on June 22, 1929 in Brooklyn, he was the son of the late William and Elizabeth Czirr. He was predeceased by his wife Dorothy Czirr and his brother William Czirr.
Charles served in the US Navy during the Korean War. He worked as an engineer for Honeywell in Albany for 35 years, retiring in 1992. He was a longtime member of the King of Kings Lutheran Church in Clifton Park, and served on the church council for many years.
He is survived by his sons Charles (Colleen) Czirr Jr., and John (Amy) Czirr, and his daughter Stephanie (Charles) Maurer. He is also survived by his grandchildren Christopher Czirr and Caitlin (Andrew) DuJack, Jeremy, Ryan, and Timothy Czirr, Nathaniel (Jessie) Maurer, and Jenna (Seth) Herlich, niece Anita Pfisterer and nephew John Czirr.
Calling hours will be held on Friday, January 14th from 5 to 8 p.m. at the Catricala Funeral Home Inc., 1597 Route 9, Clifton Park, with a funeral service on Saturday at 10 a.m. at the King of Kings Lutheran Church in Clifton Park. Burial will be in the German Lutheran Cemetery in Harlemville at 12:30 p.m.
The family would like to thank Dr. Michael Greenblatt and the doctors and nurses at NYOH, Albany Med Urology, and Albany Memorial Wound Care for the wonderful care they provided during the last few years.
In lieu of flowers, donations may be made in his memory to the King of Kings Lutheran Church Memorial Fund, 1593 Crescent Rd, Clifton Park, NY 12065.