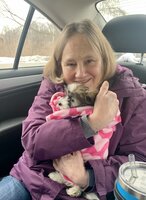 Beth L. Schram
Beth L. Schram, age 67 of Valley Falls passed away peacefully on Saturday, January 8, 2022. Born on November 14, 1954, she was the daughter of the late Joseph and Dorothy Antolick.
Beth spent her career as an LPN for 43 years. She started her career at Leonard Hospital and retired as a longtime nurse for Dr. Craig at Clifton Park Family Medicine. She was very dedicated to her church, The Church of the Resurrection, where she loved being in charge of coffee hour.
She is survived by her husband Fred Schram, son Paul (Kristen) Schram, daughter Amy (Nicholas) Coon, her grandchildren Jackson and Colton Schram, and Jace and Sadie Coon, and her best friend Laurie Speanburg.
A calling hour will be held on Saturday, January 15th from 1 to 2 p.m., with a memorial service at 2 p.m. at the Church of the Resurrection at the Halfmoon Town Hall, 2 Town Hall Plaza.
In lieu of flowers, donations may be made in her memory to the Church of the Resurrection, PO Box 1282, Clifton Park, NY 12065.