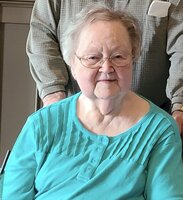 Patricia J. Perry
Patricia J. Perry, age 79 of Halfmoon passed away peacefully on Monday, May 2, 2022. Born on May 28, 1942, she was the daughter of the late Jesse and Anna DeVoe. She was predeceased by her sister Lynn (Ed) Turner, brother-in-law Mike Hennessey, and great-granddaughter Elyna Rose Taylor.
Patricia was a graduate of Shenendehowa High School where she participated as a baton twirler in the marching band. She spent her career with the NYS Worker's Compensation Board for 23 years, retiring in 2001.
She was active in the Shenendehowa United Methodist Church, serving as a Sunday School teacher, and on the Susanna Wesley Circle, where she held positions of chairperson and treasurer. She was involved with Focus and bulletins, and served on the Heritage Committee.
Patricia enjoyed crocheting, knitting, embroidery, quilting, reading, and most recently playing games on the Kindle. Most of all, she loved spending time with her family, planning family Christmas parties and reunions, and enjoyed seeing her grandchildren and great-grandchildren.
She is survived by her husband Robert Perry, children Edward (Kim) Perry, Kenneth Perry, Karen (Brett) Taylor, Bruce Perry, and Jennifer (Scott) Hickey, brother Gene (Phyllis) DeVoe, sister Nancy (Mike) Hennessey, brother Dennis (Kathy) DeVoe, 10 grandchildren, and 9 great-grandchildren.
Calling hours will be held on Friday, May 6th from 4 to 7 p.m., with a service at 6:30 p.m. at the Catricala Funeral Home, 1597 Route 9, Clifton Park.
In lieu of flowers, please take a friend to lunch, tell them how much they mean to you, do a random act of kindness, make a donation in her memory to the Clifton Park/Halfmoon Emergency Corps., the Jonesville Food Pantry, or to the Halfmoon Senior Express.