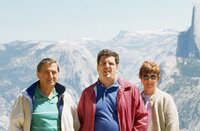 Michael A. Andolina
Michael A. Andolina, age 67 of Ballston Spa passed away on Tuesday July 12, 2022. Born on June 6, 1955, he was the son of Anthony and the late Kathryn Marie Andolina.
Mike enjoyed reading, collecting photos, traveling, watching classic TV shows and rooting for many different sports teams. He loved animals of all kinds and they were always at ease and happy around him too. Mike rode horseback in the Special Olympics and also enjoyed bowling. Generally shy, he was very inquisitive with everyone he met and had an incredible memory for dates, facts and history.
Mike deeply valued his family, faith and housemates at AIM Services. He looked forward to celebrating his birthday and holidays with child-like excitement. He enjoyed the many travels that created a lifetime of experiences and memories he cherished so much. He touched many lives and will be missed.
In addition to his father, he is survived by his siblings Kathleen (Jeffrey) Brody, Robert (Laura) Andolina, and John (Heidi) Andolina, his nieces and nephews Steven and Ben Brody, Miriam (Daniel) Jette, Christopher and Callie Andolina and Emily, Julie and Anthony Andolina, great-nephew Owen Jette, and many cousins.
There will be a private funeral service for Mike's immediate family.
In lieu of flowers, please consider a donation in Michael's memory to:
AIM Services, Inc. 4227 Route 50 Saratoga Springs, NY 12866, or online at www.aimservicesinc.org/donate/