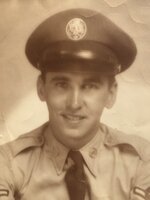 William R. Smith Sr.
William R. Smith Sr., age 90 of Clifton Park passed away peacefully at home on Sunday, July 17, 2022. Born on November 29, 1931, in Troy, he was the son of Raymond and Marion Smith, and was the oldest of six children. He graduated from Troy High School in the late 1940's.
William was predeceased by his wife Leona Clews Smith, whom he married in 1954; he was a resident of Clifton Park for 54 years. He is survived by his six children, Janice (Smith) McTernan, William R Smith Jr, Donna Smith, Brian Smith, Kevin Smith, and Lawrence Smith, 13 grandchildren, 9 great-grandchildren, and 1 great-great-grandchild.
William was a very talented baseball player and earned a tryout with the Chicago White Sox. Shortly after the tryout, he was called up for military service. He served in the Air Force during the Korean War from 1952 to 1956. He was a lifelong Yankees fan and was a longtime member of King of Kings Lutheran Church.
Calling hours will be held on Monday, July 25th from 4 to 7 p.m. at the Catricala Funeral Home, 1597 Route 9 in Clifton Park, with a funeral service on Tuesday at 10 a.m. at the King of Kings Lutheran Church, 1593 Crescent Rd. in Clifton Park. Burial will follow in the Saratoga National Cemetery.
In lieu of flowers, donations may be made to theKing of Kings Lutheran Church, 1593 Crescent Rd., Clifton Park, NY 12065.