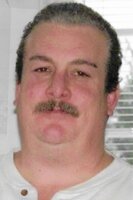 James J. Riley Jr.
James J. Riley Jr. passed away on December 24, 2021 after a courageous battle with leukemia. He was born February 19, 1968 to his loving parents Gail Moak (Brian) and James J Riley Sr. (Janet).
Jimmy was an avid outdoorsman since he was a little boy riding dirt bikes, snowmobiles, ATVS and motorcycles. He loved riding motocross with his childhood friends and often traveled to motocross competitions where he earned quite a few trophies. He loved the water whether he was jumping in the waves or fishing off his boat. Jimmy had a quick wit and sense of humor that would make entire room burst out laughing with his story telling and mannerisms.
In addition to his parents he was survived by his loving sisters Charlene Rousseau, Darlene Valigorsky (Jack), Kimberly Riley and his nieces Krystle Furioso, Jaimie Valigorsky (Bob), Karissa Valigorsky (Ryan) and several aunts, uncles, cousins, great nephews and nieces.
He is deeply loved and will be missed beyond words.
A celebration of Jimmy's life will be held on Monday, September 12th from 4 to 7 p.m. at the Catricala Funeral Home, 1597 Route 9 in Clifton Park. Interment will be held on Tuesday at 11 a.m. at Memory Gardens Cemetery in Colonie.