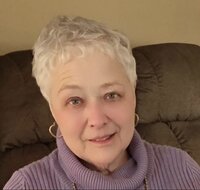 Cheryl Miner Swayne
Cheryl Miner Swayne, 75 of Clifton Park passed away peacefully on July 31, 2022 after a long battle with Alzheimer's disease. Born on November 6, 1946 and raised in Rexford; Cheryl was the daughter of the late Walter and Gladys Miner.
There are some who bring a light so great to the world, that wherever they've been the light remains. Her fun personality, and caring and giving nature brightened the world and continues to shine in the lives she touched.
You can catch that light in the countless students she taught over her 37 years of teaching at Arongen Elementary School in the Shenendehowa School District. She truly loved every minute of it and loved every student.
Cheryl was creative and a talented artist. She enjoyed painting, crafts, and basket making. She was an avid reader and you could often find her with a book in the sun by the pool. She appreciated antiques and couldn't pass up a garage sale. Cheryl treasured time spent with family and friends. She was the rock of her family and always the life of the party.

Cheryl is survived by her husband, Robert Swayne, her children; Andrew (Sandra) Swayne, Meghan Swayne, and Craig (Caroline) Swayne all of Clifton Park. Cheryl's most beloved title was grandma. She cherished her time with her grandchildren; Madeline, Derek, and David Swayne. Cheryl is also survived by her sister Tonia (Theodore) Dandrow, niece Kyrie Dandrow, and predeceased by her niece Rebecca Murphy all of Rotterdam.
Cheryl's family would like to extend warm thanks to the Home of the Good Shepherd in Malta for their exceptional care and the countless extensions of compassion during her final days. A very special thanks to Cheryl's wonderful friend, Paula Hubbard for unending love, support and friendship for Cheryl through a long and difficult journey.
Friends are invited to join the family on Monday, August 8, 2022 at the Glen Sanders Mansion, 1 Glen Ave. Scotia, NY. There will be a memorial service from 2 to 3 pm and a Celebration of Life gathering from 3 to 5 pm.

In lieu of donations please consider donating a toy to a child in need during the Holiday season. Cheryl delighted in the Christmas season and giving to others.