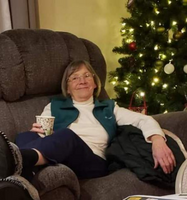 Nancy A. Masher
Nancy A. Masher, age 74, of Cohoes passed away peacefully surrounded by family on August 1, 2022. Born on June 5, 1948, in Cohoes, she was the daughter of the late Wallace and Theresa Kramek.
Nancy spent her career as an administrator for Cohoes Hospital, Leonard Hospital, Adirondack Beverage, and was owner and operator of Kings Inn Inc. in Port Henry, New York for many years.
In the remainder of her years, she was a devoted grandmother, mother, sister, and friend; she touched many hearts with her unwavering love, kindness, and compassion.
She is survived by her loving life-partner David West, her two children Eric (Stefanie) Masher and Michele (Kevin) Masher-Flanigan, her beloved grandchildren Macayla, Michael, and Charlie, her siblings Ellen Kramek, MaryJane (Joseph) Yetto, Robert (Cheryl) Kramek, Edward (Ruthie) Kramek, William (Anne) Kramek, Wallace Kramek, Joseph Kramek, Arthur Kramek, Mark (Cathy) Kramek, John (Evelyn) Kramek, many nieces and nephews, her devoted sister-in-law Michele Kramek, and her extended family, Beatrice Gamache, Barbara Thumb, Eric West, and the loving group of ladies she felt lucky to call her friends.
A celebration of her life will be held on Saturday, August 13th at the ancestral home at 4 Louis Street, Cohoes, NY from 1 to 7 p.m.
In lieu of flowers, memorial donations may be made in her name to the Crohn's and Colitis Foundation by going to the link www.crohnscolitisfoundation.org.