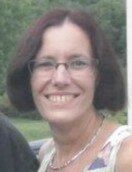 Cathy A. Geloso
Cathy A. Geloso (Ruxton), age 62, of Clifton Park, NY entered into eternal rest on Friday, August 12, 2022, after a long and courageous battle against cancer. Born October 15, 1959, in Yonkers, New York, she was the daughter of Margaret and the late William Ruxton.
In addition to her mother, she is survived by her two daughters, Michelle and Valerie, and her loving dog, Annabelle. She is also survived by his grandson, Corey Geloso-Hamm of Clifton Park. Additionally, she is survived by her sister, Debra Jacoby of Orlando, FL; her brother, Scot Ruxton of Poughkeepsie, NY; sisters-in-law Leisa Stover of Camden, NY, Gretchen Lesson of Stillwater, NY, and Erica Uhl of Mechanicville, NY; as well as several cousins, nieces, and nephews. In addition to her father, she is predeceased by her husband of 41 years, Bryan Geloso, and her faithful canine companions, Lexus, EV, and Jake.
Cathy worked at the New York State Insurance Fund for over 20 years. She spent weekends over the course of many summers at Pop's Lake Campground in Galway, her "happy place", making it to camp one last time the weekend before her passing. She is fondly remembered by colleagues and camp friends alike.
A brief memorial service will be held on Friday, August 26, 2022 at 12 p.m at the Saratoga National Cemetery, where she will be interred next to Bryan.
In lieu of flowers, donations can be made in Cathy's memory to the Mohawk Hudson Humane Society at www.mohawkhumane.org or your favorite charity.