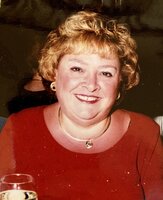 Phyllis A. Testo
Phyllis A. Testo, age 74 of Halfmoon passed away peacefully on Sunday, September 4, 2022. Born on August 18, 1948 in Troy, she was the daughter of the late Charles and Philomena Testo.
Phyllis graduated from Catholic Central High School and spent her career as a Licensed Practical Nurse at the Leonard Hospital and St. Mary's Hospital in Troy. She enjoyed arranging annual CCHS reunions with her classmates for many years. Aunt Phil treated all of her nieces and nephews as her own, and loved attending all of their various events throughout the years.
She is survived by her brothers Charles (Kathleen) Testo, John (Barbara) Testo, and James (Lisa) Testo, and was a proud aunt to many loving nieces and nephews.
Calling hours will be held on Sunday, September 11th from 1 to 4 p.m. at the Catricala Funeral Home Inc., 1597 Route 9 in Clifton Park, with a funeral service on Monday at 10 a.m. at the funeral home. Burial will be in St. Mary's Cemetery in
In lieu of flowers, donations may be made to the Catholic Central High School by going to www.cchstroy.org/giving/