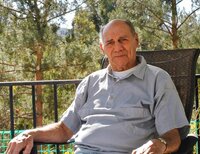 Albert W. "Bud" Taylor
Albert W. "Bud" Taylor, passed away peacefully at the age of 96 at home on September 5, 2022. He was predeceased by his loving wife Joan in 2015, and his daughters Karen and Mary Elizabeth.
Bud was a volunteer fireman, first in Hicksville, NY, and then in Jonesville, for more than 60 years. In addition, he was a long-time member of the Elks in Jonesville and the American Legion in Clifton Park, as well as the Honor Guard at the Saratoga National Cemetery.
Bud is survived by his daughter, Dr. Eileen Schifrin (Steve), his son, Glenn Taylor (Laura), and his grandson Cody.
A graveside service will be held for Bud at the Saratoga National Cemetery on Thursday, September 8th at 11 a.m.
In lieu of flowers, donations can be made to the American Cancer Society.