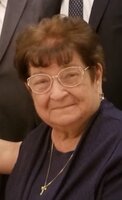 Concetta A. DiGregorio
Concetta A. DiGregorio, age 86 of Halfmoon, formerly of Franklin Square, NY passed away peacefully at home on Thursday, September 15, 2022. Born on June 5, 1936 in Brooklyn, she was the daughter of the late Vincenzo and Filomena Gennaro. She was predeceased by her brother Frank Gennaro.
She lived a fulfilling life as a wife, mother, grandmother and friend. She loved her days on Lake George at her family home in Huletts Landing with her husband, family and friends especially her grandchildren and great grandchildren.
She is survived by her husband Peter DiGregorio, daughters Josephine Mercado, and Filomena (Richard) Macygin, her son Paul (Denise Peña) DiGregorio, and her grandchildren Christopher (Nicole) Macygin, Peter (Jillian) Mercado, Christina (John) Caruso, Vincent Macygin, Joseph Mercado, and Peter (May) DiGregorio. She is also survived by her great-grandchildren Domenic Macygin, and Natalie, Mia, Angelo, Madison, and Hazel Mercado.
Calling hours will be held on Monday, September 19th from 2-4 and 7-9 p.m. at Franklin Funeral Home, Inc. 42 New Hyde Park Road., Franklin Square, NY, with a funeral Mass Tuesday at 9:30 a.m. at Saint Catherine of Sienna Church, 33 New Hyde Park Rd. in Franklin Square. Entombment will be in Pine Lawn Memorial Park in Farmingdale, NY.
In lieu of flowers, donations may be made to Pink Aid Long Island by going to www.pinkaid.org, or to St. Jude's Children's Research Hospital by going to www.stjude.org.