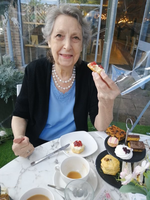 Sheila Olive Allen
Sheila Olive Allen, of Clifton Park passed away from an aneurism on Sunday, September 18, 2022. Born on October 12, 1938 in London, England, she was the daughter of the late Arthur and Sophie Johnson. She was predeceased by her husband, Roy Allen.
She is survived by her children Glenn (Barbara DeAngelis) Allen, Christine (Paul) O'Reilly, and Craig (Amanda) Allen, her brother William Johnson, and her half-sisters Nicholle and Jayne. She is also survived by her grandchildren Julia, Siana, Stephen, Jessica, Jenna, Theresa, and Autumn.
A memorial service will be held on Saturday, September 24th at 1 p.m. at the Catricala Funeral Home Inc., 1597 Route 9 in Clifton Park.
In lieu of flowers, donations may be made to the Make-A-Wish of Northeastern NY by going to www.wish.org/neny