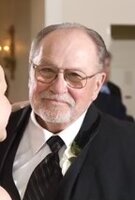 Joseph P. "Pat" Kelly Sr.
Joseph P. "Pat" Kelly Sr., age 79 of Ballston Lake passed away peacefully on Saturday, October 8, 2022. Born on August 3, 1943, he was the son of the late Joseph and Eleanor Kelly. He was predeceased by his wife Barbara Kelly.
Joseph spent his career with Verizon for 35 years; working as a safety and construction manager.
He was a member of the Colonie Elks and was proud of his Irish heritage. He enjoyed spending time with his family, especially hosting barbecues in his backyard.
He is survived by his son J. Patrick (Marissa) Kelly Jr., daughter Colleen D'Allaird, and his grandchildren Bryan, Erika, Gerardo, Sarah, Nathan, Lucas, and Benjamin.
Funeral services will be held privately by the family.
In lieu of flowers, donations can be made to the St. Jude's Children's Research Hospital by going to www.StJude.org., or to the National Breast Cancer Foundation by going to www.nbcf.org.