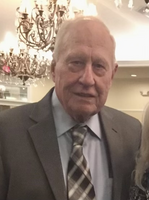 Charles E. Travis Jr.
Charles C. Travis Jr., age 89, a lifelong resident of Halfmoon passed away peacefully on Saturday, October 15, 2022 surrounded by his loving family and his longtime companion Marilyn.
Charles was born on December 11, 1932, in Halfmoon. He attended a two-room schoolhouse in Clifton Park Village on Old Route 146, and graduated from Burnt Hills High School in 1951. He completed the General Electric Apprentice Training Course in 1954. He spent his career as a draftsman, foreman, and planning and methods specialist for G.E. in the Steam Turbine Department in Schenectady, retiring in 1992. He was a member and past usher of St. George's Episcopal Church in Clifton Park.
He was a member of the G.E. Apprentice Alumni Association, Turbine Supervisors Association and G.E. Quarter Century Club. He was also the first director of youth baseball in the Clifton Park Village. He played baseball in high school and semi-pro baseball in the Clifton Park and Albany Twilight Leagues. His high school team was inducted into the Burnt Hills Ballston Lake Athletic Hall of Fame in 1948 and 1949. He was certified by the NYS Umpire Association and the Capital district Umpire Association.
On July 23, 1954 he married Merrilee Decareau. Together they raised four children. As a family they loved camping, summer and winter sports. Charles loved hunting, fishing, bowling and was an avid golfer until 87 years of age. He enjoyed spending time with his grandchildren. Every holiday was special. They affectionately called him "Gramp Gramp" and "Pa Pa."
After losing his wife in 1992, he was lucky to have another chance at love with Marilyn Adsit. They traveled all over the world together including taking 12 cruises. When traveling ended, they looked forward to their daily visits. Marilyn's children also adored Charles. Their name for him was "Faux Pa."
He was predeceased by his wife Merrilee Decareau, parents Charles and Lillian Hatlee Travis, his brother Roger (Marjorie) Travis, and his daughter-in-law Marie Travis.
He is survived by his two sons Charles C. Travis III, Bradley (Lana Curtis) Travis, daughters Brenda (Thomas Pronti) Travis, and Barbara (John Palmer) Travis, and his longtime companion Marilyn Adsit.
He is also survived by 8 grandchildren and 12 great-grandchildren.
Calling hours will be held on Friday, October 21st from 11 to 1 p.m., with a service at 1 p.m. at the Catricala Funeral Home Inc., 1597 Route 9, Clifton Park. Burial will be in Clifton Park Village Cemetery.
The family would like to thank the staff of the Eddy Home Care and Marquis Home Care for their excellent care and continual encouragement.
In lieu of flowers, donations may be made in his memory to the Kayla Marie Adsit Memorial Foundation, a fund of Community Foundation of Northern Colorado, 4745 Wheaton Dr., Fort Collins, CO, 80525, or by going to www.nocofoundation.org.