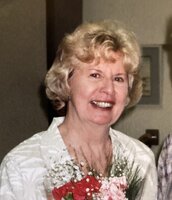 Dorothy Rucigay
Dorothy Rucigay, age 97, of Clifton Park, passed away peacefully on October 22, 2022.
Born on July 3, 1925, she was the daughter of the late William and Meta Kaune.
Dorothy grew up in the Brooklyn/Queens area of New York City. She was a 1942 graduate of Girls Commercial High School and was an accomplished seamstress. Before getting married in 1950 she was a receptionist at a Greenwood Mills sales office in Manhattan. She spent her life raising her family and tending to her household. She loved flowers and was active in the garden club when she lived in Endwell, NY, having served as a past president. Upon moving to Clifton Park, she founded her own silk flower business, Flowers by Darcy. She enjoyed singing, dancing, and traveling throughout the U.S. and Europe with her husband.
Dorothy was pre-deceased by her husband John Rucigay. She is survived by her daughters Diane (Michael) Mitrione, and Lori (Tom) Ordon, son Richard (Tammy) Rucigay, and sister-in-law Lee Rucigay. She is also survived by grandsons Kyle Mitrione and Jason Mitrione as well as several nieces and nephews.
A calling hour will be held on Saturday, October 29th from 3:30 to 4:30 p.m. at the Catricala Funeral Home, Route 9, Clifton Park.
In lieu of flowers, contributions may be made in her memory to Alzheimer's Association Northeastern NY Chapter, 4 Pine West Rd, Unit 405, Albany NY 12205, or online at www.alz.org