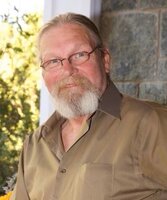 John P.A. Fagan
John P.A. Fagan, age 64 of Malta passed away on Tuesday, November 15, 2022. Born on September 29, 1958, he was the son of Joan Cassidy Fagan and the late John G. Fagan. He was predeceased by his beloved dog, Molly.
John worked in construction as a member of the Carpenters Union #291 out of Albany and retired as a corrections officer for NYSCOPBA. He enjoyed music; especially playing his guitar, painting, fishing, and hunting.
He is survived by his mother Joan Cassidy Fagan, son John T.G. Fagan, his siblings Glenn (Gerri) Fagan, Eric Fagan (Diana Bonk), and Kathleen Fagan, and many nieces and nephews.
Calling hours will be held on Tuesday November 22 from 5 to 7 p.m. at the Catricala Funeral Home, 1597 Route 9, Clifton Park.
The family requests no flowers be sent. Donations may be made in his memory to the Malta-Stillwater EMS, 2449 Route 9, Malta, NY 12020.