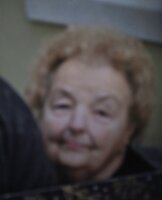 Joan L. Taglione
Joan L. Taglione, age 84 of Halfmoon passed away peacefully on November 18, 2022. Born on June 6, 1938, she was the daughter of the late Russell and Laura Harris. She was predeceased by her husband Carmine J. Taglione and her brother Lloyd Harris.
Joan spent her life raising her family. She enjoyed tending to her garden and cherished her time being a grandmother and great-grandmother.
She is survived by her daughter Maryann (Victor) Pallozzi, grandchildren Jesse McKinney, Matia Dunn, Jacob Bagley, and her great-grandchildren Jayden, Payton, Charlotte, and Bentley Dunn.
A calling hour will be held on Wednesday, November 23 from 10 to 11 a.m., with a service at 11 a.m. at the Catricala Funeral Home, 1597 Route 9, Clifton Park. Burial will be in St. Paul's Cemetery in Mechanicville.
In lieu of flowers, donations may be made to the Saratoga County Animal Shelter, 6010 County Farm Rd, Ballston Spa, NY 12020.