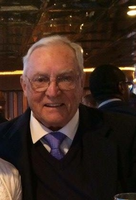 Howard R. Picard
Howard R. Picard, age 83 of Clifton Park passed away peacefully on Tuesday, November 22, 2022. Born on November 9, 1939 in Albany, he was the son of the late William and Mary Picard. He was predeceased by his brother William Picard Jr., sister-in-law Barbara Picard, and his brother-in-law Roger Boucher.
Howard graduated from Albany Business College before enlisting in the US Navy where he served 4 years of active duty and 2 years in the active reserves. He worked for IBM for 12 years before finishing his career as the Director of IT and Business Planning for the SI Group in Schenectady for 30 years. Howard and his wife were very active members of St. Mary's church in Crescent.
He is survived by his wife Ann P. Picard, daughters Lori (David) Wayand, and Amy (Mark) Langevin, sons James (Amy), Joseph (Theresa), and Michael (Amanda) Picard. He is also survived by his sister JoAnn Boucher, 18 grandchildren and 16 great-grandchildren.
A calling hour will be held on Monday, November 28 from 10 to 11 a.m. at St. Mary's Church in Crescent, 86 Church Hill Rd., in Halfmoon, with a funeral Mass following at 11 a.m. Burial will be in Saratoga National Cemetery at 1 p.m.
In lieu of flowers, donations may be made to the St. Joseph's Indian School by going to www.stjo.org, or the Muscular Dystrophy Association by going to www.mda.org.