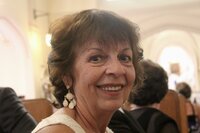 Barbara M. O'Malley
Barbara M. O'Malley, age 80 passed away peacefully on December 22, 2022. Born on November 10, 1942, she was the daughter of the late Rosario and Anna Bullis Gullotto. She was predeceased by her husband Richard O'Malley, brothers George, Roger, Anthony, and her sister Beatrice.
Barbara married the love of her life at 17 years old and life was never quite the same after Richard's passing in 2018. (Mom will be celebrating Christmas with dad, listening to Elvis.)
For many years she worked part-time at Northway Exchange and later at Manheim. Barbara was the best daughter, wife, mother, and grandmother EVER. She was a talented homemaker and a loving caretaker her entire life. Barbara was a beautiful woman inside and out. She will be remembered for her generosity, her selfless unwavering love and caring, her "constant worry", and her ability to talk and make a new friend in anybody.
She is survived by her children Vincent (Alita) O'Malley, Lynn (Peter) Bell, and Lisa (Alan) Maher. She was lovingly known as "Ma" to her six grandchildren and one great-grandchild Derek (Jenna Huneau) Bell, Jocelyn (Cory) Stanton, Nicole Maher, Brendan (Cheyenne) Maher, Sara O'Malley, Sean O'Malley, and her great-granddaughter Sophie Bell Stanton.
Calling hours will be held on Wednesday, December 28 from 10 a.m. to 12 p.m., with a service at 12 p.m. at the Catricala Funeral Home, 1597 Route 9, in Clifton Park. Burial will follow in St. Paul's Cemetery in Mechanicville.
In lieu of flowers, donations may be made in her name to St. Jude's Children's Research Hospital: 501 St. Jude Place, Memphis, TN 38105, or by going to www.stjude.org.