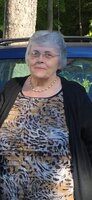 Donna C. Traider
Donna C. Traider, age 76 of Round Lake passed away peacefully on Sunday, January 22, 2023 surrounded by her loving family. Born on September 8, 1946, she was the daughter of the late Robert J. Riddle Sr. and Ruth A. Riddle. She was predeceased by her brother Alan Riddle, and son-in-law Kenneth Garrison.
Donna spent her career with Shenendehowa, first working as a librarian and then transitioned into the food service department. She enjoyed camping, baking, and bowling, and was a longtime member of the Round Lake Ladies Auxiliary. Most of all, she loved spending time with her family, especially her grandchildren.
She is survived by her husband Peter Traider, children Paul (Diane) Traider, Gary (Kelley) LaQue, Michael (Sara) Traider, Diane Garrison, and Michelle Traider, and her siblings Robert J. Riddle Jr., Kenneth (Christine) Riddle, Marie (Michael) Hecht, Patricia (Clifford) Gagnon, and Sandra (Daniel) McAlonie. She is also survived by her loving grandchildren Maggie, Robert, Ryan, Tyler (Hailey) Ashley (Anthony) Corey, Lilly, Zachari, and great-grandson Braxton.
Calling hours will be held on Saturday, January 28 from 10 a.m. to 12 p.m. with a funeral service at 12 p.m. at the Catricala Funeral Home Inc., 1597 Route 9, in Clifton Park. Burial will be in Jonesville Cemetery in the spring.
In lieu of flowers, donations may be made in her memory to the Make-A-Wish of Northeastern NY by going to www.wish.org/neny.