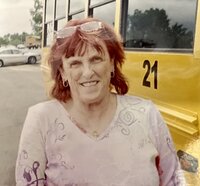 Laura A. Zagata
Laura Ann Zagata, age 79 of Ballston Lake passed away peacefully at home on January 27, 2023. Born on September 22, 1943, she was the daughter of the late Ralph and Alice Walsh. She was predeceased by her husband Richard Zagata Sr., and her 13 siblings.
Laura raised her family before working as a bus monitor for Shenendehowa Schools for over 20 years. She enjoyed helping her husband in his automotive business, Zagata's Garage in Clifton Park. She loved to tend her flower garden at home and go camping on Lake Nancy with her sons.
She is survived by her sons Richard (Christina Rountree) Zagata Jr., and Ronald (Heidi Morehouse) Zagata and grandson Nathan (fiancé Nicole Meczywor) Zagata, her great-grandson Cooper Zagata, and many nieces and nephews.
Calling hours will be held on Tuesday, January 31 from 4 to 7 p.m. at the Catricala Funeral Home Inc., 1597 Route 9, in Clifton Park, with a funeral Mass on Wednesday at 10 a.m. at St. George's Episcopal Church, 912 Route 146 in Clifton Park. Entombment will be in Memory Gardens Cemetery in Colonie.
At Laura's request, donations may be made in her memory to St. George's Episcopal Church, 912 Route 146, Clifton Park, NY 12065 or to the Mohawk Hudson Humane Society at www.mohawkhumane.org.