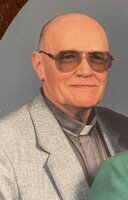 Rev. Irving F. Ballert Jr.
The Reverend Irving Frank Ballert, Jr. of Clifton Park, NY, formerly of Sidney, NY, passed away peacefully at his home on Saturday, February 11, 2023. Irving was born on April 10, 1926 to Elizabeth "Betty" Atkinson and Irving Frank Ballert, Sr. He was predeceased by his sibling, Nancy Elizabeth Ballert.
Irving was married to Dorothy Grace Bridge Ballert on June 19, 1949, in Hazardville, Ct. They were married for 72 years before her passing on November 25, 2021. They have three children together - Nancy Faith Ballert Heilstedt (husband Martin) of Kirkland, WA, David Robert Ballert (wife Noreen) of Plymouth, MA, and Maribeth Hope Ballert Potter (Michael) of Clifton Park, NY. They also have seven grandchildren - Jessica Lynn Ballert, Graham Jackson Potter, Sally Elizabeth Heilstedt, Matthew Ryan Ballert, Jaime Michael Irving Potter, Laura Stephanie Heilstedt, and Samantha Jane Ballert, and four great-grandchildren whom Irving adored - Hunter Ballert, Ethan Casabonne-Potter, Henry Ballert, and Betty Ballert.
Irving was a graduate of Lansingburgh High School, and of Rensselaer Polytechnic Institute, Troy, NY where he received a bachelor's degree in mechanical engineering in 1950 and a bachelor's degree in management engineering in 1954. He also earned a master's degree in counseling education from the State University of New York at Oneonta.
Irving served in the US Army - 95th Infantry Division and was a Separation Counselor in Fort Dix, NJ. He was also employed as a Sr. Draftsman for the State of NY99 Division of Bridges and Grade Separations. Irving later worked as a US Navy Department Inspector of Machinery, and also as an engineer in Medium Induction Motors at General Electric, Schenectady, NY.
Irving received his theological preparation for ordination under the direction of Fr. George DeMille, and was ordained as a Deacon on June 16, 1962 by Bishop Brown at the Cathedral of All Saints. He was ordained to the priesthood on December 16, 1962. Irving served as the assistant Priest at St. John's Church, Troy, NY and Priest in Charge at St. Luke's, South Troy and St. John's Chapel in West Sand Lake.
Irving served as Rector of St, Paul's Church in Sidney, NY for over 30 years.
He was Chair of the Diocesan Youth Committee and he and Dorothy were active in the Cursillo and Happening Renewal Movements, as well as in the Order of St. Francis.
Irving loved to read, study theology, and make crossword puzzles for his grandchildren and great grandchildren. Mostly, he loved spending time with his wife, Dorothy, their children, grandchildren, and great-grandchildren.
During retirement, Irving traveled as a supply Priest in churches throughout the Diocese of Albany and the Diocese of Central New York. Following his time as a supply priest, Irving and Dorothy were blessed with being able to return to St. Paul's Church, Sidney, where the priest in charge, Fr. Shevlin honored Irving by asking him to fill in for him from time to time when needed. They felt forever grateful for being able to "come home." In Retirement, Irving and Dorothy were also a co-chair couple for Diocesan Retired Clergy and Spouses. Irving and Dorothy still maintained their home in Sidney, NY, but were living with their daughter Maribeth in Clifton Park, NY while seeking specialty medical care in the capital district.
In accordance with Irving's wishes, funeral services will be private.
Irving's loving presence will be greatly missed by many. In memory of Irving's life, donations can be made to St. George's Episcopal Church, Clifton Park, NY and St. Paul's Episcopal Church, Sidney, NY.