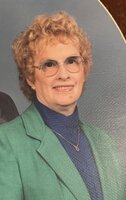 Dorothy Grace Bridge "Dottie" Ballert
Dorothy "Dottie" Grace Bridge Ballert of Clifton Park, formerly of Sidney, NY, passed away peacefully at her home on Thursday, November 25, 2021. Born on September 26, 1928 in Hazardville, CT, she was the daughter of the late Martha Grace Yates Bridge and Robert Parsons Bridge. She was predeceased by her siblings Allyn Bridge, Elizabeth Bridge, and (Robert) Dudley Bridge.
Dorothy was a graduate of Enfield High School in June 1946, and of Russell Sage College of Troy in 1950, where she earned a BA in English.
In her Senior year, Dorothy was the Editor of the Sage Literary Magazine. She also received a Master's Degree in Elementary Education from Russell Sage
College in 1965 and Certification in Art from SUNY College at Oneonta in 1975.
Dorothy was married to Irving F. Ballert, Jr. on June 19, 1949, in Hazardville, CT. They have three children together- Nancy Faith Ballert Heilstedt (husband Martin) of Kirkland, WA, David Robert Ballert (wife Noreen) of Plymouth, MA, and Maribeth Hope Ballert Potter (Michael) of Clifton Park, NY. Dorothy also has seven grandchildren-Jessica Lyn Ballert, Graham Jackson Potter, Sally Elizabeth Heilstedt, Mathew Ryan Ballert, Jaime Michael Irving Potter, Laura Stephanie Heilstedt, and Samantha Jane Ballert, and four great-grandchildren whom she adored- Hunter Ballert, Ethan Casabonne-Potter, Henry Ballert, and Betty Ballert.
Dorothy was a member of St. Paul's Episcopal Church, Sidney, NY, where her husband, Irving, was Rector for nearly 30 years. Dorothy played the guitar for many of the services at St. Paul's, which she enjoyed immensely.
Dorothy was also a substitute teacher and home tutor for 20 years for the Sidney Central School District. She was privileged to provide home tutoring to three young girls with health issues. However, not only did she provide them with tutoring, but she also developed very close friendships with those special girls who taught her how to live courageously because that is how they lived their lives.
Dorothy was a member of the Sidney Monday Club and the Sidney Business and Professional Women's Club. She was active in the Tri-Town Theater, with her most memorable roll being that of Laura in The Glass Menagerie.
Dorothy loved to spend much of her time gardening, as well as drawing and painting. She enjoyed reading and was well known for her perpetual letter writing. She never forgot to send cards on every special occasion, often times incorporating her own poems into the cards. She also loved birds as evidenced by her many bird feeders on the back deck. Mostly, Dorothy loved spending time with her husband, Irving, her children, grandchildren, and great-grandchildren.
During retirement, Dorothy accompanied her husband in his travels as a supply Priest in churches throughout the Diocese of Albany and the Diocese of Central New York. As she had enjoyed being the guitarist for many services at St. Paul's Church, Sidney, she also enjoyed being the guitarist at St. Timothy's Church, Westford, for seven years. Following their time at St. Timothy's Church, Dorothy and Irving were blessed with being able to return to St. Paul's Church, Sidney, where Fr. Shevlin honored Irving by asking him to fill in for him from time to time when needed. They felt forever grateful for being able to "come home." In Retirement, Dorothy and her husband were also a co-chair couple for Diocesan Retired Clergy and Spouses. Dorothy was active in the Cursillo and Happening Renewal Movements and as an associate of the Order of St. Francis. Dorothy and Irving still maintained their home in Sidney, NY, but were living with their daughter Maribeth in Clifton Park, NY while seeking specialty medical care in the capital district.
Dorothy's loving presence will be greatly missed by many. In memory of Dorothy's life, donations can be made to St. George's Episcopal Church, Clifton Park, NY, St. Paul's Episcopal Church, Sidney, NY.