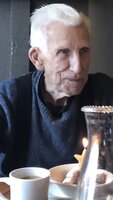 Lester E. "Les" Colvin
Lester E. Colvin, age 89 of Halfmoon passed away peacefully on February 22, 2023. Born on April 9, 1933 in Schenectady, he was the son of the late Lester and Ella Robinson Colvin. He was predeceased by his son William Uber, daughter, Debra Uber, and his granddaughter Brenda Mendez.
Les was a truck driver for all of his life and worked for the Teamsters Local 294 for 30 years. He enjoyed camping, traveling with his family, and his many years vacationing in Aruba. He also loved trips to the casino. Every morning he could be found amongst his friends at the Guideboard Rd. Stewart's.
He is survived by his wife Katherine "Betty" Hatlee Colvin, daughters Sandra (Bill) Callahan, and Shari (Mark) Colvin-Daignault, sons, Daniel (Debbie) Uber, David (Nancy) Uber, Randy (Pati) Uber, and Mark and Michelle Frost, and his daughter-in-law Vickie Uber. He is also survived by 11 grandchildren, and 11 great-grandchildren, and many nieces, nephews, and cousins.
Calling hours will be held on Monday, February 27 from 4 to 7 p.m. at the Catricala Funeral Home Inc., 1597 Route 9, Clifton Park.
In Les' memory, donations may be made to an organization of one's choice.