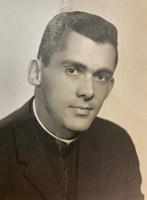 J. Thomas Going
J. Thomas Going, age 87 of Clifton Park passed away peacefully at home on Friday, February 24, 2023. Born on September 24, 1935, he was the son of the late John and Manuella Going. He was predeceased by his wife Jacqueline J. Going, and his brother David Going.
Tom spent his career as a manager for the NYS Governor's Office of Employee Relations for many years. He was the former pastor of St. Pius X Church in Loudonville for 10 years, and was long time daily communicant of St. Edward the Confessor in Clifton Park. Tom was also a member of the Upper Room in Albany.
He is survived by his son, John (Theresa) Going Jr., and several nieces and nephews.
Calling hours will be held on Friday, March 3 from 9 to 11 a.m. in the day chapel of St. Edward the Confessor Church, 569 Clifton Park Center Rd., with a funeral Mass at 11 a.m. Burial will be in St. Mary's Cemetery in Fort Johnson.
In lieu of flowers, donations may be made to the Father Peter G. Young Foundation, 428 Duane Ave., Schenectady, NY 12304.