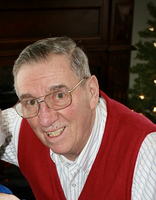 George Beyer
George Beyer, age 87 of Halfmoon passed away on Tuesday, February 28, 2023. Born on October 30, 1935, he was the son of the late Frederick and Marie Alice Beyer. He was predeceased by his brother Paul Beyer.
George spent his career as an installer and repairman for NY Telephone for over 30 years, later retiring from AT&T. He was known as a master woodworker, and was a longtime member of St. Mary's Church in Crescent. He loved to spend time outdoors, feeding the birds, and especially enjoyed tending to his vegetable garden at home.
He is survived by his wife Dorine, children Bethann (Linda Wyld) Beyer, Kim (Matt) Anatriello, Mark (Diana) Beyer, Stacey (John) Shinski, and his sister-in-law Dolores Beyer. He is also survived by his grandchildren Vincent (Caryn), Valerie (Michael), Janice (Ray), Lauren (Tyler), Mitchell, Erin, and Brooke, and his great-grandchildren Angelina, Ethan, Max, Avi, Luca, and Mazie.
A funeral Mass will be held on Thursday, March 2 at 11 a.m. at St. Mary's Church in Crescent, 86 Church Hill Rd., in Halfmoon.
In lieu of flowers, donations may be made in his memory to St. Mary's Church, Crescent, 86 Church Hill Rd., Waterford, NY 12188.