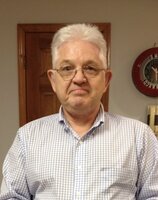 Jack E. Dodd Jr.
On Wednesday, March 1, I received a panicked and hysterical phone call just before 7 AM from my mother, a normally reserved, coolly rational person whom I had never so much as seen cry once prior to the events that have unfolded since. My dad had passed away very suddenly and unexpectedly despite being in apparently excellent health. We later learned the cause was a swift and sudden heart attack (and that he only had one kidney—the man was never boring for a moment in his life). My father has been working as a subcontractor in Utica as a psychiatrist for the prison there Monday-Thursday and would stay in a hotel Sunday-Wednesday night in order to avoid a 3-hour commute on top of his often wearying 10 hour shifts. My mom routinely called him the mornings he was away to ensure he had not slept through his alarm clock, and feared the worst when he did not respond to her calls and texts or to the hotel staff calling his room phone and knocking on the door. Unfortunately, he had already passed when the hotel maintenance man managed to gain entry via the first-floor window of the hotel room, where he discovered my father's prone form lying still on the floor. He called for help and attempted CPR, but it was already likely hours too late. I spent the greater part of Wednesday helping my mother drive to and from Utica where we spoke with two police officers at the scene of his death before saying farewell to my father's body when the funeral director arrived to take him to the medical examiner's office. We slowly managed to gather his belongings through a fog of disbelief and thanked the teary-eyed hotel staff who had come to love him as their favorite client for his warmth and kindness these last 3 and a half years. My mom left a generous tip in his room, explaining to me this was his habit every week before packing his car for the long drive home.
My father loved psychiatry and practiced in the field for over 40 years. He was my greatest supporter in many ways--it was he who inspired me to apply to the Sage graduate psych NP program during a conversation he initiated with me on my birthday in 2019. As he was away so often these past several years and we were unable to see one another during the height of the pandemic, I would often call him in the evenings he was away. I'd talk to him for hours at a time, several nights every week, asking him questions about topics I was studying in my program and delighted to hear stories about his training and life he had not shared with me before. He worked first as an army psychiatrist in the 1980's during the AIDs epidemic when he tragically lost many beloved friends. He trained for his residency at Letterman Army Medical Center (which sadly no longer exists) where he had lunch with John Bowlby, the founder of attachment theory, was chief resident in the psychiatric program he attended in San Francisco, CA, and designed a program in the early 1980's as part of his residency research--to teach lucid dreaming to veterans for trauma. The program unfortunately never caught on, but he was never one to let the wind be knocked from his sails for long. He loved therapy, hypnosis, ECT, Carl Jung, and all things psychiatry related. He never believed medications alone were sufficient to address mental illness and its underlying causes in most clients. At the age of 75, his final year on this earth, he had lived through many seismic shifts in society, politics, and medicine, yet never grew stale or complacent in his professional practice. He worked in many settings, from inpatient psychiatric units to private practice, most recently as a contractor for the state, and was well-respected by his colleagues. He had a wealth of compassion for his clients—my mom often bemoaned that he continued to see many patients when he owned a private practice down south even when they could not pay him because he was too big-hearted to turn them away and we both loved him for this despite the obvious impracticality from a business standpoint. He was a young soul, always eager to learn and to share his knowledge with others. He was the most brilliant person I've ever known so well but remained ever humble. He would likely be astonished by the outpouring of love and support my mother and I have received these last several difficult days.
During one of our final phone conversations, I was telling him about a quiz I took for my graduate school psychiatry class, and he told me he had just started reading a book about serotonin that was over 1,000 pages long. The night before he passed, I called my father-- I had just ordered my graduation regalia and asked him if he would be attending my graduation (more out of politeness than lack of expectation that he would certainly be in attendance). He teased me and pulled my leg about not being entirely sure he'd be able to attend, before making jokes with me and sharing the latest shows and books he was interested in per usual. I never imagined that would be our last conversation.
It is going to be a challenge to complete this program and rotation knowing my dad will not be attending my graduation and will not be here to mentor me through my first years as a professional in his field.
I feel good about the fact that I am going to follow in his footsteps and despite this new hardship, will honor his memory by becoming one of the best in his profession.
I wish I could fully encapsulate Dad's non-professional personality in a few short paragraphs but that seems an impossible task, for he was such a multi-faceted, crazy diamond, and dynamic by nature—Dad was interested in everything from flying planes, photography, writing poetry, blacksmithing, prospecting for treasure (both at flea-markets and in the earth with his absurdly large collection of metal detectors), making stained glass windows, to making music of all kinds. Most recently, he was studying accordion and banjo simultaneously and teaching himself the beginnings of stop-motion photography. He was literally the funniest person I've ever met and often clearly relished inducing my mother and me to gales of uncontrollable laughter. He was incredibly courageous, adventurous, honest to a fault, and devoted to his principles. He had a magical ability to charm wild animals of every variety, babies, and small children, including his niece Georgia and his nephew, Henry, whom my cousin Katie stated was 'indignant he only got to spend time with Jack once, saying that he thought he would get to see more of him.' I think Henry best sums up my mom's feelings and my own—we thought we would get to see more of him, and I have a feeling we never could have gotten quite enough of Dad had he lived to be 100 years old. I will never run out of gratitude for the countless wonderful and strange memories, experiences, and lessons my dad has given me, and my heart will overflow with love for him until I meet my own end.
There will be a Celebration of Life for Jack on Saturday, March 25 from 1 to 4 p.m., with a time of sharing at 3 p.m. at the Catricala Funeral Home, 1597 Route 9, Clifton Park.