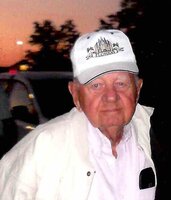 Wilfred "Willy" Petuske Jr.
Wilfred "Willy" Petuske Jr., 94 of Halfmoon, passed away peacefully March 7, 2023 at home surrounded by his family. He was the son of the late Wilfred Petuske Sr. and Olga Petuske, and was pre-deceased by his sister Madeline and his brothers-in-law Paul Sabourin and Alfred "Jim" Bold.
Wilfred grew up on his family's dairy and vegetable farm in Halfmoon where many family gatherings were held. He and his parents would raise and sell their produce at their farmstand in Halfmoon, Menands Capital Region Farmers Market, and peddled products up to Brant Lake. In 1952, Willy entered the U.S. Army, and was stationed in Germany. Upon his return home from service in 1954, he went back to work on the family farm, worked at Guptill's Skating Arena laying the skating floor and as a guard. He worked for his brother-in-law, driving a dump truck when he decided to leave and go to work for Shenendehowa School District retiring in 1992. He continued the family farm stand, with his wife Ruth by his side until their retirement in 2002, with family continuing the business today. He enjoyed camping on weekends with the gang and winters in Florida with their motor home for many years. Wilfred impacted many with his kindness, warm smile, unique sense of humor and was always willing to help his fellow neighbor. Wilfred was a life member of the Halfmoon Fire Department and a member of the American Legion Post 1450.
He is survived by his loving spouse of 72 years, Ruth (Chouiniere) Petuske, his sons, Robert Sr. (Ginny), and Richard (Michelle), grandson Robert Jr. (Seranie), granddaughter April (Jason) and three great-grandchildren, Nicholas, Tessa and Cooper. He is also survived by his sisters Betty (Jim) Fontaine, and Janice Sabourin, sister-in-law Shirley Bold, and many nieces and nephews.
Calling hours will be held on Thursday, March 9 from 4 to 7 p.m. at the Catricala Funeral Home Inc., 1597 Route 9, Clifton Park, with a service on Friday at 10:30 a.m. at the funeral home. Burial will be in Saratoga National Cemetery.
The family requests no flowers be sent. Donations may be made in his name to the American Legion Post 1450, 275 Grooms Road, Halfmoon NY 12065.