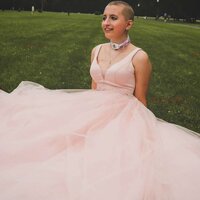 Yeva N. Klingbeil
Yeva N. Klingbeil, age 19 of Ballston Lake passed away peacefully at home on April 22, 2023. Born on April 29, 2003 in Stanford, CA, she was the daughter of Adam and Gretchen Klingbeil.
Yeva was a 2021 graduate of Shenendehowa High School where she excelled at track & field and cross country. She enjoyed photography and being outdoors. She loved to bake cakes, cookies, and other desserts, which she happily gave to friends, family and neighbors. Yeva had a kind and generous spirit and she brightened the day for anyone she was with. Her name means nurturing and life-enhancing which she lived up to. She is a firm believer in Jesus Christ as her Savior and attended church at King of Kings Lutheran Church in Clifton Park, where she was a member. Yeva was diagnosed with Rhabdomyosarcoma in October of 2019. Throughout her treatments at Albany Med and Massachusetts General Hospitals, her friends and loved ones were a constant source of strength and fueled her positive attitude during those trying times.
She is survived by her parents Adam and Gretchen Klingbeil, sisters Olivia (Michael Mongelluzzo), Kyla, and Fiona, her paternal great-grandmother Laila Arndt, her paternal grandparents Fred and Elaine Klingbeil, and her maternal grandparents Paul and Charlotte Wiley. She is also survived by 14 aunts and uncles and 17 cousins.
Calling hours will be held Sunday, May 7 from 1 to 4 p.m., with a service at 4 p.m. at King of Kings Lutheran Church, 1593 Crescent Rd. in Clifton Park.
In lieu of flowers, donations can be made in memory of Yeva to: Albany Med Melodies Center (Melodies Center for Childhood Cancer and Blood Disorders at Albany Med and may be sent c/o Albany Med Foundation, 43 New Scotland Ave., MC-119, Albany, NY 12208) , the Dana Farber Jimmy Fund (jimmyfund.org/gift) or to the King of Kings Lutheran Church Yeva Klingbeil Memorial Fund (King of Kings Lutheran Church, 1593 Crescent Rd., Clifton Park, NY 12065)