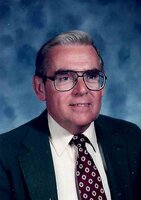 Richard J. Moran
Richard J. "Dick" Moran, age 81 of Clifton Park passed away peacefully on April 23, 2023, after an extended illness, in the loving company of his family. Born on January 28, 1942, he was the son of the late Thomas and Lillian Moran. He was predeceased by his brother Thomas (Christine) Moran.
Dick is survived by his loving wife of 57 years, Nancy C. White Moran of Clifton Park, daughter Michele (Jeffrey), son David Richard (Michelle) Moran of Knoxville, TN, and his cherished granddaughters. They referred to their loving grandfather as "Pata". He is also survived by his brother-in-law Ronald K. White and several nieces and nephews.
Dick was a 1959 graduate of the LaSalle Institute in Troy, NY. He earned his undergraduate degree from Siena College and later earned his master's degree in administrative education. Dick served his country in the US Army National Guard before starting his career in education. He spent his career of over 30 years at the Mechanicville Public School District, first working as a high school English teacher and later serving as the elementary school principal.
Dick took up woodcarving in his retirement and was a talented and active member of the Mohawk Valley Carving Club of Amsterdam NY, serving as past president. He also enjoyed gardening, bird watching, and traveling to the Caribbean with Nancy. He enjoyed his daily walks with his beloved dog, Lindy who predeceased him. Dick was a longtime member of St. Edwards the Confessor and served as a weekly lector and Eucharistic minister.
The family would like to express sincere thanks to Capital Cardiology and Dr. James O'Brien for the many years of care.
Calling hours will be held on Friday, April 28 from 9 to 11 a.m. in the day chapel of St. Edward the Confessor Church, 569 Clifton Park Center Rd., with a memorial Mass at 11 a.m.
In lieu of flowers, donations may be made to the American Heart Association by going to www.heart.org or Pepper Tree Rescue, Albany NY.