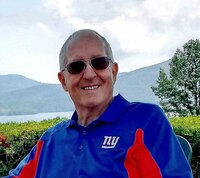 Ronald F. Haskin
Halfmoon- Ronald F. Haskin, a beloved husband, father, brother, grandfather, uncle and friend passed away on April 24th, 2023, at the age of 77. He was born in Fulton NY to his very loving parents Floyd and Anita Haskin. He and his wife Jeanette were high school sweethearts and continued their love for over 55 years of marriage. They had a wonderful daughter, Shelly Haskin Amato, who married their son-in-law, Keith Amato. Ron thought the world of Keith. Ron delighted in indulging his one grandson, Ben Amato who was truly the apple of his eye. Ron was predeceased by his beloved parents and sister, Judy Ann Haskin. Ron was also very close to Jean's sisters, Diane McCray and Elizabeth Schalk and his dear niece, Jennifer, all of whom he loved very much.
Ron graduated from Fulton High School with high honors. He then attended Oswego College and graduated with a Bachelor of Science in English and Social Studies and Masters Degree in Education. He became a teacher at Mexico High School and then a High School Principal in Lisbon, Herkimer and Brittonkill School Districts. After he retired, he worked as a teacher for Catholic Central School. Ron devoted his life to teaching and caring for others. Ron was frequently identified as "Favorite Teacher" in the yearbook by his students. He was exceptionally proud of the fact that after he retired from teaching at Catholic Central, his former students continued to dedicate their yearbook to him. He always had a word of encouragement for his students and friends and there was no subject he wouldn't take on!
Ron led his family in embracing life and gathering wonderful memories at every turn. As a husband, Ron found no greater joy than in his life with Jean, whether it be cruising, trips to Myrtle Beach, golfing or simply enjoying life each day with a morning coffee and walk. As a Father and Grandfather, Shelly and Ben could ask for no greater champion, no matter the milestone or adventure, with no better partner or fan in which to celebrate and enjoy each and every milestone. As Poppy would always say…. "May the Adventures Continue."
Ron was known for his sense of humor and wit and gathered many lifetime friends who have remained dear to him. Among those are Bob, Carl, Dan, Joe, and Jack. His golf buddies were right beside him as well, during this journey. Once you were his friend, you were considered a friend for life. He enjoyed being a devoted Horseshow Dad, a Tae Kwon Do Black Belt, and being an EMT in his younger years. In his later years, he loved the game of golf. He was a hard core Giants Football fan but could be found rooting for all the New York teams. His family knew not to "mess with his Sundays" during football season. He wore a football jersey for his teams every day he could get away with it.
Ron's journey with cancer was long but he fought bravely and did not allow this disease to define him. Even this past year, he could be found golfing and lunching with friends. Ron and his family offer endless appreciation and thanks to his medical team at New York Oncology in Clifton Park and Hospice. During his seven-year run at New York Oncology, he would often say that this was where everyone knew him by name. He hated cancer but loved the wonderful staff he had the honor of coming to know.
All are welcome to join our family in remembering Ron on Friday, April 28th from 11 a.m. to 1 p.m. with a memorial service at 1 p.m. at the Catricala Funeral Home, 1597 Route 9, Clifton Park. Calling hours will be held from 11:00 a.m. to 1:00 p.m. There will be a a celebration of life to follow from 4 to 6 p.m. at the Fairways of Halfmoon, 17 Johnson Road, Mechanicville, New York. The celebration of life is intended to be a festive gathering as Ron would have wished for. Giants, Bills or other New York Team Jerseys and colors encouraged.
In lieu of flowers, donations can be made to The Wesley Foundation online at www.thewesleycommunity.org/donate or via mail at The Wesley Foundation, 131 Lawrence Street, Saratoga Springs, N.Y. 12866 or St. Luke's on the Hill at www.stlukesonthehill.org or via mail at St. Luke's on the Hill, 40 McBride Road, Mechanicville, N.Y. 12118.