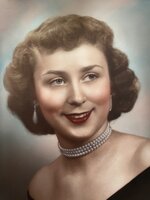 Alice E. Devlin
Alice E. (Wing) Devlin, age 91 of Clifton Park passed away peacefully on April 28, 2023. Born on March 21, 1932, she was the daughter of the late Jewett and Catherine McKenna Wing. She is predeceased by her former spouse Robert J. LaBelle Sr., and her second husband Henry Devlin.
Alice graduated from Watervliet High School in 1950 and worked in the credit department at Montgomery Ward. She later retired after a career with the NYS Higher Education Services Corp.
She is survived by her children Robert (Michelle) LaBelle, Deborah (Chris Becker) LaBelle, William (Sarah) LaBelle, Michael (Cathy) LaBelle, and Suzette LaBelle. She is also survived by her grandchildren Alex (Lauren), John (Molly), William (Susan), Joseph (Stacy), Michael, Kayla, Madeline, and Casey, and her great-grandchildren Reagan, June, Graham, Owen, and Andon, and her sister Mary.
Calling hours will be held on Friday May 5 from 5 to 8 p.m. at the Catricala Funeral Home Inc., 1597 Route 9, Clifton Park, with a funeral Mass on Saturday at 9 a.m. at St. Mary's Church in Crescent, 86 Church Hill Rd., in Halfmoon. Burial will follow in St. Patrick's Cemetery in Watervliet.
In lieu of flowers, donations may be made in her name to St. Mary's Church in Crescent, 86 Church Hill Rd., Waterford, NY 12188.