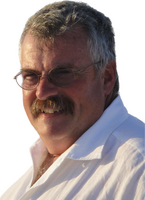 John D. Colarusso
John D. Colarusso, age 69, passed away peacefully on May 10, 2023. He was the son of the late John and Marie Colarusso. He was predeceased by his wife Carol Ann Colarusso, his brother Phillip Colarusso and brother-in-law Richard Corliss.
John is survived by his fiancé Betty Gardner, his daughter Alexis Colarusso, stepson William (Lisa) Burdick, their children Emma and Nick Burdick, brother-in-law Dave (Sue) Corliss, sister-in-law Cathy Colarusso and Mary Wier. He is also survived by more than several generations of nieces, nephews, and cousins, along with Betty's sons Heath (Jen) Gardner, Milton (Carrie) Gardner, and her grandchildren that he loved like his own, Logan, Peighton, and Lucas.
John was a farm kid who grew up to become a jack of all trades, a master mechanic, a teacher, a truck driver, a collector and hobbyist of the most random things, a biker, an outdoors man, a sportsman, a hunter, an angler, a WWII, and a local history buff. He taught others how to enjoy the outdoors as well and could tell you just about any species of tree, plant, animal, bird, fish, amphibian, and insect imaginable, along with the history of the area. He enjoyed reenactments of the Revolutionary War, the French and Indian War, and performed in the Battle of Saratoga, Battle of Ticonderoga, and Battle of Niagara Falls just to name a few. He loved to travel and wanted to retire in Maine living on the ocean eating lobster.
John was a larger-than-life guy with a generous and loving heart who always pushed you to be confident in yourself and to do what makes you happy. He was a man who could be just as stubborn and bull headed as he was kind, loving, and generous. John had a way with words, written or spoken, that could leave you speechless and full of emotion. He was smart, creative, and genuine. He was and will continue to be loved and cherished by family and friends everywhere he wandered.
Calling hours will be held on Friday, May 19th from 3 to 6 p.m., with a memorial service at 6 p.m. at the Catricala Funeral Home Inc., 1597 Route 9, Clifton Park.
In John's memory, we ask you to please write down some of your favorite memories of John in a letter or card for the family to cherish on a later date.