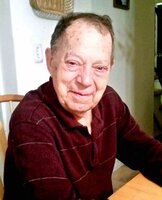 Peter S. Campisi
Peter S. Campisi, age 93 of Clifton Park passed away peacefully at home on May 18, 2023. Born on October 18, 1929, he was the son of the late Giuseppe and Anna Campisi. He was predeceased by his brother Placido Campisi and sister-in-law Joan Campisi.
Peter served in the Korean War and spent his career as an insurance manager for Grand Union in Waterford. He was an avid trumpet player and played in several bands throughout the Capital District.
He is survived by his children Paul (Janice) Campisi, Peter J. (Camilla) Campisi, Cindy (Steven) Slutsky, Elizabeth DiNardo and Thomas Nelli, brother Giacomo Campisi, and sister-in-law Girolama Campisi. He is also survived by his grandchildren Matthew, Emily, Pia, Luca Campisi, Matthew Blair, Megan and Eric Padelford, and Jason and Cynthia Slutsky.
Calling hours will be held on Wednesday, May 24 from 10 a.m. to 12 p.m., with a funeral service at 12 p.m. at the Catricala Funeral Home Inc., 1597 Route 9, Clifton Park, Burial will follow in Saratoga National Cemetery.
In lieu of flowers, donations may be made in his name to the Shenendehowa Friends of Music, c/o Peter Campisi, 142 Lapp Rd., Clifton Park, NY 12065